The factories that were closed in the difficult 90s are reopening with the support of the state in the Karaganda region.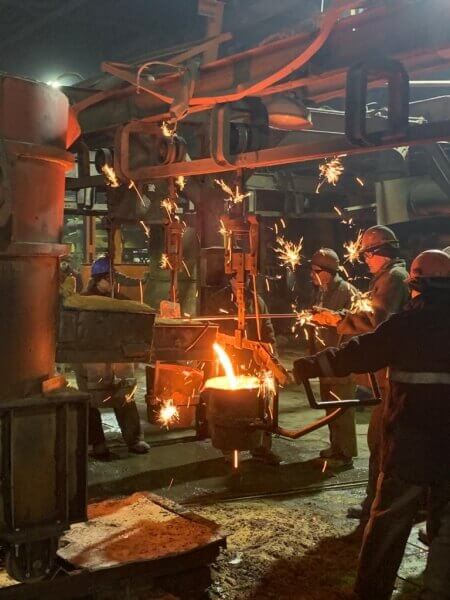 The effect will be colossal – only one revived Asia FerroAlloys plant will create 1,200 jobs, the budget will receive about 3 billion tenge of taxes, and there will be 100 percent local content.
In the regional center of the Karaganda region, the former Karaganda foundry is being revived, which, with the arrival of new investors, has been renamed into the association of foundries – Asia FerroAlloys LLP. A large-scale modernization of the plant is currently underway. Outdated equipment was replaced, including coke cupolas that had been operating in the foundry for almost 60 years. New induction furnaces have been installed, which allow the production of pig iron and steel of the highest quality without harm to the environment. The alloy obtained with the new equipment contains much less harmful impurities.
– The plant produces up to 140 tons of high-quality foundry products per day. It is intended to revive the machine building, energy, mining metallurgy and railway industry of the country. For example, it is the only company in the region that makes brake pads for locomotives. The products cover the needs of large industrial companies in Kazakhstan, Russia and other CIS countries. In the future, the company will expand the geography of its supplies, – commented Yerlan Nigmatulin, shareholder of Asia FerroAlloys.
Today this enterprise can already be called unique. Energy efficient and environmentally friendly developments of the latest generation are being introduced here. The entire process is automated, making the plant cost effective. Within the framework of modernization, the main emphasis is placed on increasing labor productivity through the transfer of completely new technologies. The project is being implemented entirely through private investments, including foreign ones.
– Based on the demand in the Kazakhstan market, we came to the conclusion that there is a niche for increasing the production of foundry products. We are currently modernizing production to obtain products with higher added value. Traditionally, Kazakhstan has great potential in this direction, including a developed infrastructure, an excellent raw material base and high-quality personnel. All these factors will ensure a high level of development of our company in the near future, – said David Kemertelidze, a shareholder of Asia FerroAlloys.
The plans of "Asia FerroAlloys" LLP are the construction of a new workshop for the production of large-sized castings. This means that additional jobs will appear in Karaganda.